REGIONAL GUIDELINES FOR RESPONSIBLE FISHERIES IN SOUTHEAST ASIA SUPPLEMENTARY GUIDELINES ON CO-MANAGEMENT USING GROUP USER RIGHTS, FISHERY STATISTICS, INDICATORS AND FISHERIES REFUGIA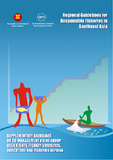 Date
2006-03
Page views
27
Abstract
The Guidelines on "Use of Indicators for the Sustainable Development and Management of Capture Fisheries" which is to large extent related to fishery statistics, was developed to complement the programs on statistics, thus, incorporating appropriate mechanisms for collecting data information supporting indicators in routine (fishery statistics) and non-routine exercises (research). It was supplemented by selected experiences from the pilot projects of member countries to clarify its potential application. The Guidelines explains the use of fishery indicators in the management of fisheries and stressed for the regional common understanding of the term, importance and roles of stakeholders, its development, and appropriate national system to support the scheme.
Description
Supplementary Guidelines on Co-management using Group User Rights, Fishery Statistics, Indicators and Fisheries Refugia, was prepared by the Secretariat of the Southeast Asian Fisheries Development Center (SEAFDEC), in collaboration with Member Countries of the Association of Southeast Asian Nations (ASEAN). The Document is distributed to the ASEAN-SEAFDEC Member Countries, SEAFDEC Departments and concerned institutions.
Collections
Related items
Showing items related by title, author, creator and subject.
Unknown author

(

Southeast Asian Fisheries Development Center to the Royal Government of the Netherlands

,

1982-06

)

In view of the success so the first Training Course, SEAFDEC's Training Department organized the Second Regional Training Course for Fishery Extension officers in Marine Capture Fisheries from 25 January to 19 March 1982. ...

Unknown author

(

Training Department, Southeast Asian Fisheries Development Center

,

2012-03

)

Siriraksophon, Somboon

;

Tantivala, Chitjaroon

;

Janathan O.Dickson

;

Promjinda, Sayan

;

Chanrachkij, Isara

(

Training Department, Southeast Asian Fisheries Development Center

,

2008

)

The objectives are to investigate the efficiency of 18/0 10 offset circle hooks in comparison with the J-hooks, the hooking position between two different types of hook, and to investigate the impact of longline fishery ...