Essential EAFM Training Course Port Moresby, Papua New Guinea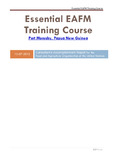 日付
2015-07-15
Page views
236
抄録
The Essential Ecosystem Approach to Fisheries Management (EAFM) Training Course was conducted in Crowne Plaza Hotel in Port Moresby, Papua New Guinea from 06-10 July 2015. It has twenty one (21) participants coming from the National Fisheries Authority, Provincial and District Fishery Offices and NGO in Papua New Guinea. It was a five-day training course with the objectives of providing full understanding on the concept and need for an EAFM and teaching participants skills and knowledge to develop, implement and monitor an "EAFM plan" to better manage their fisheries. As per agreed allocation of effort, each of the three trainers facilitated four to five sessions of the 17-session course. However, all trainers supported each other through the entire course implementation which included tasks for preparing daily materials, consolidating daily feedback from participants and adjusting, when possible, the succeeding sessions to consider those feedback, assisting participants in group work, and coordinating and working with the resource person. A combination of PowerPoint presentations, group activities, role-playing exercises, and planning preparation activities were used to make the participants learn, understand, and be motivated in applying EAFM to their fisheries work in the country. Along the entire course, participants who were grouped into two practice groups, prepared elements of a draft EAFM plan for their chosen geography and fishery system. At the end of the course, each group presented their sample EAFM plan and resource person and trainers provided constructive feedback to improve their work. The trainers have to adjust the allocated time of 8-hour training per day to cover all the topics for the day while giving enough time to share and discuss all the outputs of group activities and in most cases there was a need for extra time per day. Despite these, all participants evaluated the training course as highly successful and even recommended conducting a Training of Trainers so that they can disseminate the EAFM approach at the community level.
Citation
Cabungcal, R. (2015). Essential EAFM Training Course Port Moresby, Papua New Guinea. Philippines: Provincial Government of Palawan.
主題
Related items
Showing items related by title, author, creator and subject.
สำนักงานฝ่ายฝึกอบรม, ศูนย์พัฒนาการประมงแห่งเอเชียตะวันออกเฉียงใต้; องค์การอาหารและการเกษตรแห่งสหประชาชาติ; IMA International; องค์กรมหาสมุทรและชั้นบรรยากาศแห่งชาติ

(

สำนักงานฝ่ายฝึกอบรม, ศูนย์พัฒนาการประมงแห่งเอเชียตะวันออกเฉียงใต้

,

2017

)

แผ่นภาพอธิบายการจัดการทรัพยากรประมงโดยใช้แนวทางเชิงระบบนิเวศ

FAO, GEF Project, REBYC II CTI,SEAFDEC

(

2016-11-28

)

The FAO GEF Project REBYC II CTI is one of the FAO projects along with other support agencies that had been promoting capacity development for the Ecosystem Approach to Fisheries Management through the "Essential EAFM" ...

SEAFDEC, REBYC-II CTI

(

SEAFDEC

,

2016-10-16

)

A consortium of agencies and projects working in fisheries in South East and South Asia had developed a very systematic training course on the Ecosystem Approach to Fisheries Management ("Essential EAFM") since 2012 and ...