Review of the Trawl Fisheries in Prachuap Khiri Khan and Chumphon Province, Thailand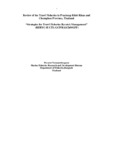 Date
2014
Author
Page views
128
Description
Although the number of fishing boats registered by trawls has continuously decreased during last decades, the demersal fish stocks are in declining state. Closed area in the Upper Western Gulf of Thailand, including Prachuap Khiri Khan and Chumphon Province, has been effective almost 30 years. However, it seems that it is not sufficient to sustain fisheries resources. Several issues demonstrating the decline of fisheries resources have been discussed in this paper. Huge amount of trash fish, overfishing, lower CPUE and sub-adult economic fish being caught are all signs that strong management actions are strongly needed. Enlargement of cod-end mesh size is a possible management measure to restore the resources and to ensure sustainable fisheries in the country.
Citation
Noranarttragoon, P. (2014). Review of the Trawl Fisheries in Prachuap Khiri Khan and. Bangkok: Marine Fisheries Research and Development Bureau, Department of Fisheries.
Subject
Related items
Showing items related by title, author, creator and subject.
SEAFDEC,ASSOCIATION OF SOUTHEAST ASIAN NATIONS

(

SEAFDEC

,

2006-03

)

The Guidelines on "Use of Indicators for the Sustainable Development and Management of Capture Fisheries" which is to large extent related to fishery statistics, was developed to complement the programs on statistics, thus, ...

Yamao, Masahiro

(

Training Department, Southeast Asian Fisheries Development Center

,

1987-01

)

This textbook was initially prepared as part of the lectures on Fisheries Economics at SEAFDEC, in 1986. The contents are obviously not only introductory but also essential to our subject. In addition to my summarized ...

Southeast Asian Fisheries Development Center, Training Department

(

Training Department, Southeast Asian Fisheries Development Center

,

2018

)

Proceeding of SEAFDEC Seminar 2018: Fisheries and Marine Environment