Biodiversity, Abundance and Distribution of Fish Larvae in Ao Trat, Thailand.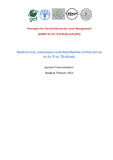 日付
2016
Page views
113
記述
From the data collected among March 2014-January 2015 showed that the fishes were spawning year round but the spawning peaks were March and September. And the March spawning was greater than September. The spawning areas were near shore closed to the open sea. Furthermore, the study of the spawning area of the fish larvae needs more sampling data at least3 or 4 years data. This study data was only one year study, the result was only an approximated.
Citation
Termvidckakorn, A. (2016). Biodiversity, abundance and distribution of fish larvae in Ao Trat, Thailand. Training Department, Southeast Asian Fisheries Development Center.