Training Course on Essential Ecosystem Approach to Fisheries Management (E‐EAFM)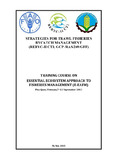 Date
2015
Page views
180
Description
After a brief introduction of the workshop by Mr. Rick Gregory, Regional Project Coordinator (PRC), Deputy Director of the Department of Capture Fisheries, Mr. Vu Duyen Hai, gave introductory statements and declared the workshop open by giving a warm welcome to participants. He explained the objectives and structure of the workshop. Course participants then introduced themselves, and the PRC also provided an overview of the training course structure. The course followed the sessions as indicated in the final agenda, (Appendix 2). Start times were adjusted to allow for the extra time required when translation from English to Vietnamese was necessary. Participants were divided into four groups based on their provinces, for working group discussions throughout the course.
Citation
Training Course on Essential Ecosystem Approach to Fisheries Management (E‐EAFM). (2015). Training Department, Southeast Asian Fisheries Development Center.
Subject
Related items
Showing items related by title, author, creator and subject.
SEAFDEC,ASSOCIATION OF SOUTHEAST ASIAN NATIONS

(

SEAFDEC

,

2006-03

)

The Guidelines on "Use of Indicators for the Sustainable Development and Management of Capture Fisheries" which is to large extent related to fishery statistics, was developed to complement the programs on statistics, thus, ...

Yamao, Masahiro

(

Training Department, Southeast Asian Fisheries Development Center

,

1987-01

)

This textbook was initially prepared as part of the lectures on Fisheries Economics at SEAFDEC, in 1986. The contents are obviously not only introductory but also essential to our subject. In addition to my summarized ...

Southeast Asian Fisheries Development Center, Training Department

(

Training Department, Southeast Asian Fisheries Development Center

,

2018

)

Proceeding of SEAFDEC Seminar 2018: Fisheries and Marine Environment