Project achievements and policy recommendations for Indonesia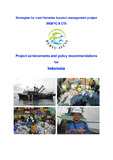 日付
2015
Page views
91
抄録
The Strategies for Trawl Fisheries Bycatch Management (REBYC-II CTI) Project was implemented in Indonesia, together with other participating countries, Papua New Guinea, Philippines, Thailand and Vietnam, aiming to address some challenges on trawl fisheries management by promoting sustainable fishing practices and improving fisheries management. The Project contributes to more sustainable use of fisheries resources and healthier marine ecosystems in Indonesian waters by reducing non-sustainable bycatch and other fishing impacts from trawl fisheries. The Food and Agriculture Organization of the United Nations (FAO) was the Global Environment Facility (GEF) agency for the Project that was funded jointly by GEF and the implementing and executing partners. The regional project implementation partner was the Southeast Asian Fisheries Development Center (SEAFDEC) through its Training Department in Thailand.
Citation
Project achievements and policy recommendations for Indonesia in Strategies for trawl fisheries bycatch management project. (n.d.). Indonesia
Related items
Showing items related by title, author, creator and subject.
SEAFDEC,ASSOCIATION OF SOUTHEAST ASIAN NATIONS

(

SEAFDEC

,

2006-03

)

The Guidelines on "Use of Indicators for the Sustainable Development and Management of Capture Fisheries" which is to large extent related to fishery statistics, was developed to complement the programs on statistics, thus, ...

Yamao, Masahiro

(

Training Department, Southeast Asian Fisheries Development Center

,

1987-01

)

This textbook was initially prepared as part of the lectures on Fisheries Economics at SEAFDEC, in 1986. The contents are obviously not only introductory but also essential to our subject. In addition to my summarized ...

Southeast Asian Fisheries Development Center, Training Department

(

Training Department, Southeast Asian Fisheries Development Center

,

2018

)

Proceeding of SEAFDEC Seminar 2018: Fisheries and Marine Environment